Kit
OTFC are proud to launch our new club shop:
Click the image below to start your browsing – further instructions on how to place orders will be communicated very soon.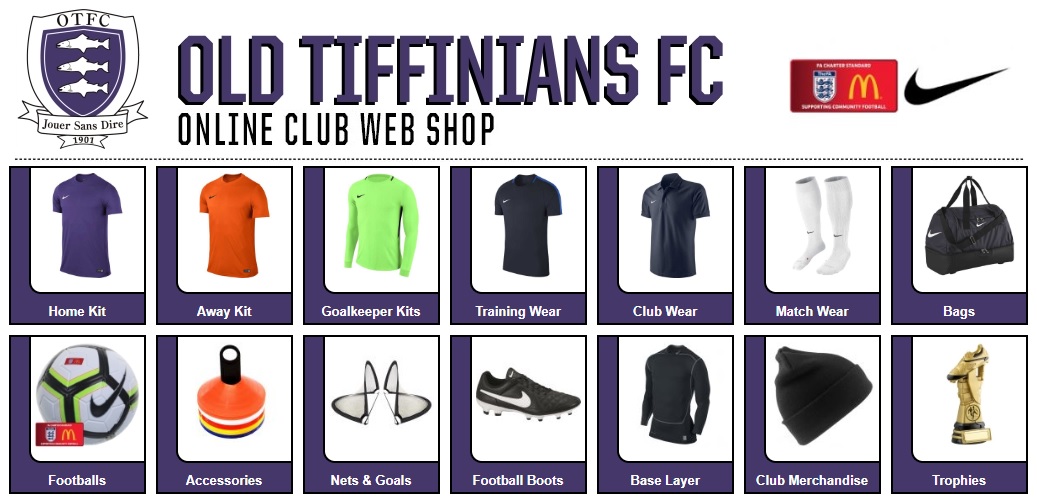 Our shirts are primarily purple (hue varies across the teams), and we provide these to players on the match day. Every week a different player takes the kit to wash it, and by the end of the season everyone has washed the shirts at least once.
Players are expected to play in their own white shorts and white socks, these can be purchased at the club shop (other suppliers are available). Shinpads and appropriate studs are mandatory.
Below please find costs for tailored club merchandise including our club badge and you initials embroidered. Purchasing via the link above brings a huge 5% rebate back to us for further investment into our club:
| | Product Type | Product Range | Product Description | Product Code | Product Price |
| --- | --- | --- | --- | --- | --- |
| | Training Wear | Nike Academy 18 | 3/4 Tech Pant | 893793451 | £25.00 |
| | Training Wear | Nike Academy 18 | Drill Top | 893624451 | £28.00 |
| | Training Wear | Nike Academy 18 | Hoody | AH9608451 | £33.00 |
| | Training Wear | Nike Academy 18 | Knit Track Jacket | 893701451 | £31.00 |
| | Training Wear | Nike Academy 18 | Polo | 899984451 | £24.00 |
| | Training Wear | Nike Academy 18 | Rain Jacket | 893796451 | £40.00 |
| | Training Wear | Nike Academy 18 | Shield Drill Top | 893800451 | £33.00 |
| | Training Wear | Nike Academy 18 | Tech Pant | 893652451 | £31.00 |
| | Training Wear | Nike Academy 18 | Training Top | 893693451 | £18.00 |
| | Training Wear | Nike Academy 18 | Woven Tracksuit | 893709451 | £48.00 |
| | Club Wear | Nike Lifestyle | Club Blend Tee | 658045451 | £18.00 |
| | Club Wear | Nike Lifestyle | Club Trainer Jacket | 658683451 | £34.00 |
| | Club Wear | Nike Lifestyle | Core Polo | 454800451 | £21.00 |
| | Club Wear | Nike Lifestyle | Team Cuff Club Pant | 658679451 | £27.00 |
| | Club Wear | Nike Lifestyle | Team Club Full Zip Hoodie | 658497451 | £34.00 |
| | Club Wear | Nike Lifestyle | Team Club Hoodie | 658498451 | £31.00 |
| | Club Merchandise | Nike Team Performance | Beanie Hat | 646406451 | £10.00 |